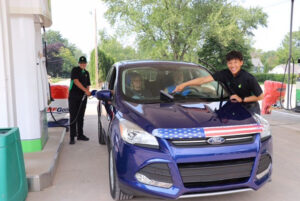 Our gas attendants offer fast, friendly service at our full service gas pumps every day. They're especially helpful in winter because, well, it's nice to stay in your car when it's cold out.
Our fuel service technicians fill your tank and wash your windows. At your request, they also check oil and washer fluid levels as well as tire pressure. In addition, there are propane tank refills, a vacuum cleaner, and a payphone on-site.
We proudly offer BP Driver Rewards at Service Oil Company. It's a free rewards card that earns you five cents off per gallon each time you fill up. BP also has a Visa® card sponsored by Chase® with Pump Rewards and special savings. Ask one of your fuel service technicians to find out more.